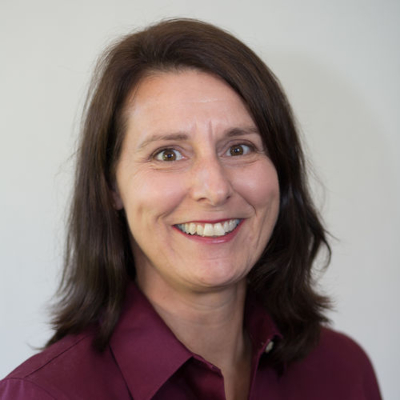 Subject Librarian Subjects
Nursing
Occupational Science/Therapy
Physical Therapy
Physician Assistant
Radiography
Sonography
Areas of Interest & Expertise
Systematic Reviews
Collection Development and Assessment
Library Design and Planning
Western Herbalism
About Cindy
Cindy Graham is a Health Sciences Librarian works with students and faculty in many disciplines and on both campuses. In this capacity, she builds collections of books, journals, and electronic resources to meet the needs of our health sciences programs. She loves to help students and faculty with database searches, as well as systematic and literature reviews.
Cindy's research interests include health sciences collection management and conducting and teaching students to conduct systematic reviews. She has a Bachelors in Architectural Studies, a Masters in Library and Information Science, and most recently, and a Masters in Holistic Health Studies. When not working at the library, she reads, knits, goes on walks and hikes, and listens to local music.
View Cindy's calendar and contact her to set up an appointment.
---
Selected Publications and Presentations
Frie, B., Graham, C., Hynes, A., Dusek, S., Heinen, L., Mehelich, M., & Campbell, K. (2021). Environmental toolkit to promote quality sleep in long-term care: A quality improvement initiative. Journal of Long-Term Care 2021, 339–347. https://doi.org/10.31389/jltc.60
Improving the Resident Sleep Environment in a Long Term Care Facility: an Interprofessional Quality Improvement Project. Peer reviewed presentation. Midwest Medical Library Association, Cleveland, OH. October 2018.
Affordable Textbooks: Lowering the Cost of a College Education one Course Reading at a Time. Opening Workshop presentation with Heather Tompkins. St. Catherine University. September 2017.
Sham Journals, Hacked Impact Factors and Scholar Phishing: Advocating for Open Access in an Age of Scholar Scams. Peer reviewed poster presentation. Joint meeting of the Midwest and Mid-Continental Chapters, Medical Library Association. Des Moines, IA. October 2016.
Sham Journals, Hacked Impact Factors and Scholar Phishing: Smart Scholarship Practices for Navigating the Digital Age. Teaching Learning Network presentation with Jyothi Gupta. St. Catherine University. January 2016.
Graham, C.K. (2014). Leveraging Accreditation to Quell the Two Fears. In M. Aho & E. Bennett (Eds.), The Machiavellian Librarian: Winning allies, combating budget cuts, and influencing stakeholders. Cambridge, England: Chandos Publishing.
Graham, C., LaChapelle, C., & Jasper, K. (2011). Phytonutrients and Health: Developing and pilot testing a survey to describe consumer awareness (Master's research paper). St. Catherine University, St. Paul, MN.