The Anne M. Butler Collection
Since March 8-14 is the fourth annual National Catholic Sisters Week, it is an appropriate time to highlight one of the newest additions to the Archives and Special Collections.
Two years ago American historian and author Anne M. Butler chose St. Kate's to hold her collection of research on Catholic Sisters. Butler wrote Across God's Frontiers: Catholic Sisters in the American West, 1850-1920, which won the Armitage-Jameson Book Prize (2013) and the Distinguished Book Award from the Conference on the History of Women Religious (2013).
The collection she donated to the Archives and Special Collections has been organized and is open for research use. It includes:
draft and final versions of her book Across God's Frontiers
other writing and lectures by Butler
photographs of Sisters and sites across the west
her personal collection of almost 250 books, primarily about Catholic Sisters
research materials she collected about Sisters from around the United States
The collection even contains a number of nun dolls! Many of these genuine nun dolls represent an array of dress and habit styles. Some of the orders represented are the Sisters of Notre Dame, the Order of Mercy, and the Sacred Heart of Mary. There is also one depicting Mother Katharine Drexel of the Sisters of the Blessed Sacrament.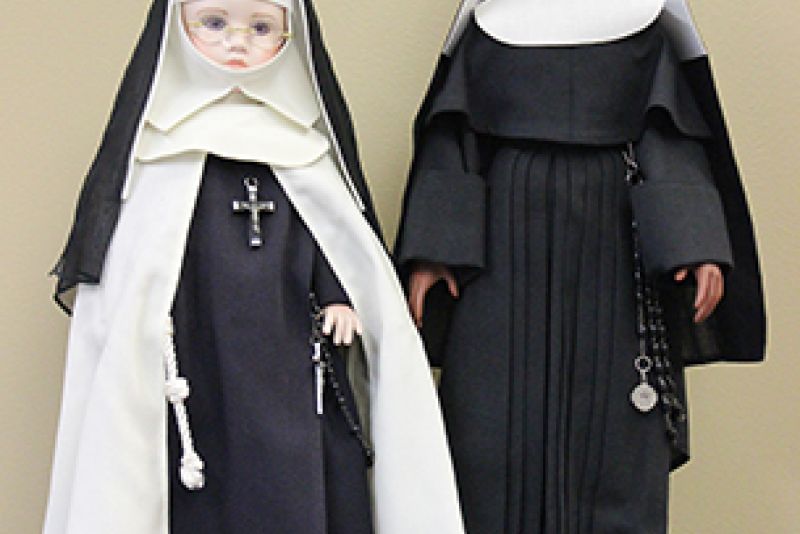 You can read Butler's book by checking it out from the library or accessing it online.
If you're interested in visiting the Archives and Special Collections to use the collection, or for whatever reason, let us know. Contact us at archives@stkate.edu or 651.690.6553. We're in the lower level of the St. Paul library; hours are Mondays through Fridays, 9:30 am - 4:30 pm.